PRE-FILLED FORM
You can send pre-filled forms to your customers.
Upon sending the invitation, you can pre-fill information on the form such as the customer's name, phone number, and more.
To do this, click the Pre-fill Form button on the invitation panel:

By using this feature, you can pre-fill specific fields in the form and enable read-only or hidden from your customers. For example, you can hide the wholesale pricing field while some information like customer address and quote price is marked as the read-only fields.
Upon clicking the Pre-fill Form button, a new page that includes the exact form will open excluding the top action bar (The bar where you can save the pre-filled and set read-only or hide). Once a specific field has pre-filled information, a light yellow mark will appear on the top of this field. With this, you can turn the hidden or read-only on or off for this field. If the yellow mark of this field is not changed, the read-only or hidden status on the top action bar is going to be the default.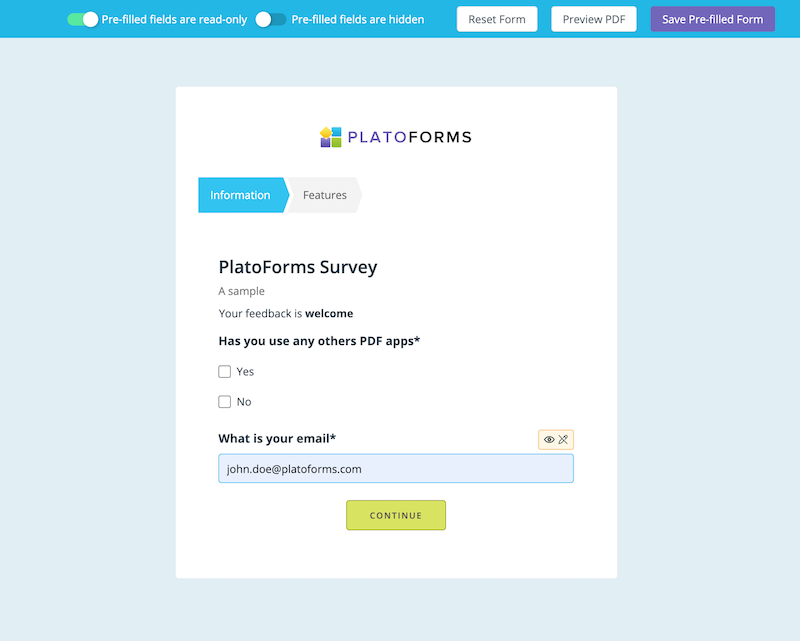 After completing all the fields that you pre-filled, make sure to click the purple button Save Pre-filled Form in the action bar to save your work before leaving the page.
Once your customer receives the invitation, they will only see and fill the forms that will be pre-filled.